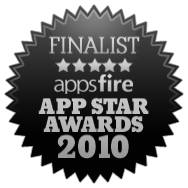 Copa do Mundo de 2010 app recursos Horários:
Calendário completo do torneio de partidas
Vista Calendário mostrando resultados de cada dia
Perfis de todos os 32 países
Calendário das partidas para cada equipe
Classificação Equipe
Perfis de todos os locais
Programação de jogos em cada local
Todas as tabelas de grupo
Detalhes do jogo para cada partida
Todas as notas e os resultados como eles acontecem
E muito mais com outros recursos em breve...
New in Version 1.2.1:
Added auto refresh (Click the refresh button a second time to stop)
Fixed minor bug
New in Version 1.2:
Added much requested back buttons
Live match incidents including goals and yellow & red cards
Players' clubs now listed

We've listened to feedback from reviews and sped up the app. Please review it so we can continue to improve it. Your comments are appreciated and taken very seriously.
Share this page