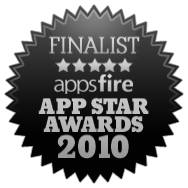 La aplicación Eventos de la Copa del Mundo 2010 ofrece:
Lista completa de todos los partidos
Calendario con los partidos del día
Perfiles de los 32 países participantes
Programación de los partidos de cada equipo
Posiciones de los equipos
Información de los estadios
Horarios de los partidos en cada estadio
Clasificación de grupos
Detalles del juego de cada partido
Todos los goles y resultados en vivo
Y mucho más con próximas aplicaciones...
New in Version 1.2.1:
Added auto refresh (Click the refresh button a second time to stop)
Fixed minor bug
New in Version 1.2:
Added much requested back buttons
Live match incidents including goals and yellow & red cards
Players' clubs now listed

We've listened to feedback from reviews and sped up the app. Please review it so we can continue to improve it. Your comments are appreciated and taken very seriously.
Share this page