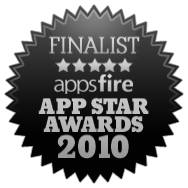 2010 World Cup Schedule app features:
Full tournament schedule of matches
Calendar view showing each day's matches
Profiles of all 32 countries
Schedule of matches for each team
Team standings
Profiles of all the venues
Schedule of matches at each venue
All the group tables
Match details for every match
All the scores and results as they happen
And much more with other features coming soon...
New in Version 1.2.1:
Added auto refresh (Click the refresh button a second time to stop)
Fixed minor bug
New in Version 1.2:
Added much requested back buttons
Live match incidents including goals and yellow & red cards
Players' clubs now listed

We've listened to feedback from reviews and sped up the app. Please review it so we can continue to improve it. Your comments are appreciated and taken very seriously.
Share this page