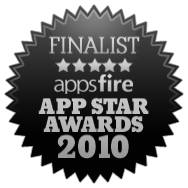 WM 2010 Spielplan ca. Features:
Ausführliche Turnierkalender von Spielen
Kalender-Ansicht zeigt jeden Tag der Spiele
Profile aller 32 Länder
Termine der Spiele für jedes Team
Teamwertung
Die Profile aller Veranstaltung sorte
Termine von Spielen an jedem Ort
Alle Tabellen Gruppe
Spiel-Details für jedes Spiel
Alle Spiele und Ergebnisse, wie sie geschehen
Und noch viel mehr mit anderen Funktionen in Kürze verfügbar
New in Version 1.2.1:
Added auto refresh (Click the refresh button a second time to stop)
Fixed minor bug
New in Version 1.2:
Added much requested back buttons
Live match incidents including goals and yellow & red cards
Players' clubs now listed

We've listened to feedback from reviews and sped up the app. Please review it so we can continue to improve it. Your comments are appreciated and taken very seriously.
Share this page