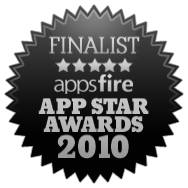 Funzioni dell' applicazione del mondiale 2010:
Calendario completo di tutte le partite del torneo
Calendario giornaliero
Profili di ogni uno dei 32 Paesi partecipanti
Programma delle partite per ogni squadra
Profili per ogni luogo dove si svolge una partita
Le classificazioni di ogni girone
Calendario per ogni stadio
Dettagli di ogni partita
Dettagli di ogni partita
Tutti i risultati in tempo reale
E molto di più con funzionalità aggiuntive in arrivo...
New in Version 1.2.1:
Added auto refresh (Click the refresh button a second time to stop)
Fixed minor bug
New in Version 1.2:
Added much requested back buttons
Live match incidents including goals and yellow & red cards
Players' clubs now listed

We've listened to feedback from reviews and sped up the app. Please review it so we can continue to improve it. Your comments are appreciated and taken very seriously.
Share this page