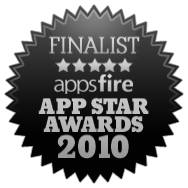 WK 2010 Rooster app kenmerken:
Volledige toernooischema van de wedstrijden
Kalender toont wedstrijden per dag
Profielen van alle 32 landen
Schema van de wedstrijden voor elk team
Team standen
Profielen van alle locaties
Schema van de wedstrijden op elke locatie
Alle de groep tabelen
Wedstrijd details voor elke wedstrijd
Alle scores en resultaten zoals ze gebeuren
En nog veel meer met andere functies komen binnenkort...
New in Version 1.2.1:
Added auto refresh (Click the refresh button a second time to stop)
Fixed minor bug
New in Version 1.2:
Added much requested back buttons
Live match incidents including goals and yellow & red cards
Players' clubs now listed

We've listened to feedback from reviews and sped up the app. Please review it so we can continue to improve it. Your comments are appreciated and taken very seriously.
Share this page